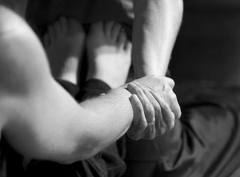 Unconditional love is love with no demands or requirements – love without need. Unconditional love is really the only love. Conditional love is not love.
The purest form of love is love in the present moment. It's for Now, which is the only moment we have really. Deep love is feeling deeply connected and united with your lover. How many other definitions of love are there?

Have you ever been so totally in the present moment that time stopped, the rest of the world ceased to exist, except for you and your lover? And you connected on all levels – physical, emotional mental and spiritual, in mutual bliss and ecstasy? Even for a moment? You felt totally at one with everything, floating freely, unencumbered by thoughts or physicality, feeling indescribably good? When you "came back" (where did you go?!) and you are in euphoric bliss, relaxed yet invigorated, happy to be SO alive!

We search outside ourselves for love, for sex, for happiness, for fulfilment, and yet when we tune in to ourselves, go into our own body – using sexual energy to direct our flow of breath, we can find a magic space, our loving place, where we can just BE ourselves. We are not human DOINGS, we are Human Be-ings!

So to love yourself unconditionally, take away all the judgement you have for yourself. See and feel your Self as a new lover experiences you – with positive flattery, loving words, special gifts, sensual touch.


1)
All the things you want your lover to say – write them down, or say them to yourself out loud. Record them, or ask a friend to record them for you. Write erotic and romantic poetry – to yourself, for yourself – as your special lover read it and feel the love.


2)
Go out looking for special gifts for your lover – write a list of things you would love to receive from your special lover. It can be quality time – where you just spend time together, phones off, talking, cuddling, connecting. It can be flowers, chocolates, dinner dates, house cleaning, a back scratch, a hug, an ice-cream.


3)
Think about being a queen or a king for a day. What would you ask of your consort, of your servants? Food, wine, special clothes, toys, pleasure, pampering, sex or love? How DO you "spoil" yourself? How WOULD you spoil yourself?


4)
Would you like to touch or be touched?
A massage, sensual, pampering, erotic or sexual?
Would giving or receiving provide you with more pleasure? Do you just want to hold hands, have your face stroked or your whole body pleasured by your lover, your friend or your self? A luxurious spa bath, a facial, head massage or just to be held in someone's arms with love?

We all want to feel loved. So how do you actually feel love and loved now? Whenever you want to – just ask! It can be family, friend, lover.


How do I ask for love?
Well – it's easy. Choose a special person and say "I would like to share some love with you. Are you willing to just sit and hold me in your arms for 10 minutes? Perhaps stroke my hair or my face gently, like you would a child" and if they want to, you can do the same for them.

Be in the moment. Ask for what you want. Breathe it in, then give some positive appreciation and thanks to them. Appreciate the person for giving you some of their time and some of their love, which you value, (or else you wouldn't have chosen them). Thank them for their precious gift.

The flow of love is the most powerful energy – so start it flowing – smile at people, feel happy and mischievous for no particular reason, explore loving your friends and family unconditionally. Surprise them with your joy and positive encouragement so they can be inspired and pass it on to others with love.